Where children are known, loved, challenged
and inspired for their future.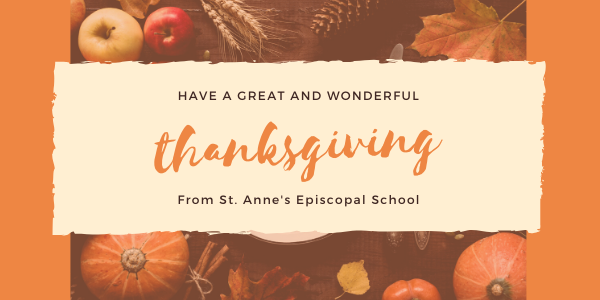 Good Day St. Anne's Families,
On behalf of the faculty, staff, and administration of St. Anne's Episcopal School, we would like to thank you for the privilege of working with your children, and for your continued support. We send heartfelt wishes for a relaxing Thanksgiving break and are grateful to be members of this wonderful community.
Warm Regards,
Barry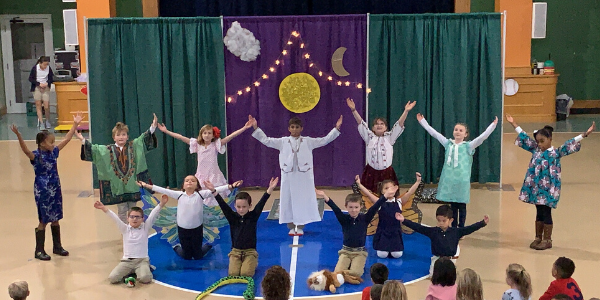 Thanks A Lot By Raffi Cavoukian
Thanks for Sun in the sky.
Thanks for clouds so high.
Thanks for whispering wind.,
Thanks for the birds in the spring.
Thanks for the moonlit night.
Thanks for the stars so bright.
Thanks for the wondering me.
Thanks for the way I feel.
Thanks for the animals,
Thanks for the people everywhere.
Thanks a lot…...Thanks for all I've got.
"Thanks a Lot" to our fabulous second graders and their teachers, Ms. Russell and Mrs. Burke for sharing their lovely interpretation of Raffi's beautiful song during chapel this past week. For those who have been around awhile, this has been a long standing tradition in Ms. Russell's second grade class. The students dress up and act out the lyrics in a way that always leaves me with a sense of gratitude and an overwhelming feeling of peace. This year's performance was particularly moving as the children had an opportunity to share their own cultural and religious backgrounds with the whole community. Each year, I look forward to this chapel and especially this song as it sets me on pace to reflect and think about the many gifts I have been given in my life. One gift in particular that I feel blessed beyond measure to have in my life is my mother. Her love and support have made me who I am today. She has always believed in me and provided limitless opportunities for me even when there were great limits to be faced. She is truly an inspiration and has shaped me into the person I am today. Mom, if you are reading this, please know how incredibly grateful I am for your love and encouragement; you are my whole world, and I treasure every moment that we have had together.
As we approach the Thanksgiving holiday, I wish everyone peace and love, and I hope that you each have an opportunity to share your gratitude for the people who have inspired and supported you.
Many blessings!
Valerie White
Upcoming Lower School Dates:

Special Friends Day - November 26th
Thanksgiving Holiday/School Closed November 27 through December 2
St. Anne's Movie Night at Westown - December 2
Preschool-1st Grade Christmas Concert - December 13
2nd-8th Grade Christmas Concert - December 19
Noon Dismissal / Start of Holiday Break - December 20
School Resumes - January 6
Helping Students Own Their Learning - When Does This Begin? 
Nancy Bennett, 5th & 6th-Grade Math, 5th-Grade Advisor
While any week of school can mark significant milestones and measurable progress, the first eight weeks of the school year are a crucial period for students to begin down the path of owning their own learning. They must learn and practice new routines, get to know instructors and peers, focus on how to meet expectations, and establish solid work habits and habits of mind that will carry them throughout the school year. When Fall Conferences transpire at the end of the eight weeks, these expectations and how to fulfill them are often the essence of many conversations, no matter the grade level, offering students more opportunities to be agents in their own learning. Nowhere is this more important than with our youngest middle schoolers. In the early middle school years, 5th and 6th grade, it is critical for advisors and teachers to help students assume ownership of their learning as they transition from teacher-led learning to teacher-facilitated learning. In the later middle school years after building and strengthening academic skills, behaviors, and competencies, our 7th and 8th-grade students are more adept at taking an active role in their learning.
So, how do we help students assume ownership of their learning?
One strategy we use involves getting students to engage in the mindful practice of The First Six Weeks from the Responsive Classroom — expectations and routines are established, rules are generated, and goals are articulated. For many students, their diligence in all of these areas results in a growing sense of autonomy with an emphasis on being more self-aware and being able to self-manage. Furthermore, students' confidence builds and their expectations for their school year begin to form and come into view. They anticipate managing their days with predictability, which eases worry and establishes competence, and most presume that a climate of warmth and safety awaits them. Our young people realize to be good stewards of all that is in the school environment, and they count on feeling excitement and enthusiasm about learning together. This mind-set prepares them to manage most of what comes their way and creates the sense that they are included in their academic plan.
Secondly, students at St. Anne's also learn to take responsibility for their learning when teachers and administrators develop and embrace curriculum and classroom practices that champion student learning in a way that promotes autonomy and ownership. We routinely evaluate student needs in order to provide necessary supports, and many curriculum programs and plans have a spiraling structure that allows students to revisit skills and concepts taught in prior years. Spiraling also allows students to reinforce skills, understandings, and concepts as well as build upon and apply them in novel situations, leveling up each year; imagine spiraling back to spiral up. Additionally, students engage in conversations and cooperative learning activities that promote a growth mindset, which allows them to tackle challenges, make errors, and develop new plans for future attempts at concepts.
Thirdly, in order for students to take ownership of their learning, we know they must be supported in a variety of ways. Teachers, advisors, parents, coaches, and peers can be valuable resources for students to rely on for guidance, suggestions, and reminders. This guidance is provided in a variety of ways: feedback, check-ins and extra help sessions, conversations, reflections, assessments, goal-setting, organizing sessions, best-practice demonstrations, time management tools, and communication platforms (Google Classroom, Gmail, etc.). Each of these practices provides students with effective strategies to keep them on target with and accountable for their learning needs and progress.
Providing a safe, welcoming learning environment, establishing expectations, using an effective curriculum, and ensuring students are supported are essential components of fostering student-owned learning. Equally as important is that the goal is graduated to best address developmental differences — more support with milder expectations in fifth grade building throughout middle school to less support with more grand expectations by eighth grade. Ultimately, expectations exist and support is available at each milestone as students become better prepared for that next assignment, trimester, grade level or high school; they are better able to self-advocate, self-manage, and self-motivate, which empowers them to take possession of their learning.
Upcoming Middle School Dates:
Special Friend's Day - November 26
Thanksgiving Break - November 27-29
No School - Teacher In-Service - December 2
Math League Meet #2 - December 9
SSAT Testing at SAES - December 14
Christmas Concert (grades 2-8) - December 19
Noon Dismissal for Christmas Break - December 20
Christmas Break - December 21 - January 5
Return to School - January 6
Math League Meet #3 - January 7
Calling All Heron Siblings & Friends - Now Enrolling
Key Admissions Dates
Tuition Assistance Applications are due by December 31, 2019
FAST Application Portal opens on December 1, 2019
Admissions Applications are due by January 7, 2020
2020 Preschool, Pre-K and Kindergarten Winter Play Dates
Preschool (Age 3 - 4) - Friday, January 24, 2020 - 10:30 - 11am
Pre-K (Age 4 - 5) - Saturday, January 25, 2020 - 8 - 10am
Kindergarten (Age 5 - 6) - Saturday, January 25, 2020 - 11am - 1pm
Child must be minimum age by August 31, 2020
2020 Middle School ERB Testing Dates
Saturday, January 11, February 29, and March 25
8am - 11am
To reserve your child's spot, please call or
email Renee Chaudoin at 302-378-3179 x311.
St. Anne's will be offering a faculty/parent book club with a diversity, equity, and inclusion focus. Our first book will be Just Mercy by Delaware native and Equal Justice Initiative Founder, Attorney Bryan Stevenson. We will provide a timeline and discussion questions; all you have to do is read along and join us in January for dinner and maybe even a trip to the movies on the opening night of the upcoming film release. Please RSVP to Amy Shepherd, Director of DEI, expressing your interest. All are welcome!
Reminders and Announcements
All parents and grandparents are welcome to attend.
Wednesday - December 4, 2019
8:15 AM - 9:00 AM
Wednesday - December 11, 2019
9:45 AM - 10:30 AM
Wednesday - December 18, 2019
9:45 AM - 10:30 AM
| | | |
| --- | --- | --- |
| M, 11/25 | Girls Basketball Practice | 3:20-4:45pm |
| | Boys Green Team Basketball Practice | Study Hall 3:20-4:45pm/Practice 4:45-6pm |
| T, 11/26 | Boys Blue Team Basketball Practice | 3:20-5pm |
| T, 12/3 | Boys Blue Team Basketball Practice | 3:20-5pm |
| W, 12/4 | Girls Basketball Practice | ½ court share with Green 3:20-5pm |
| | Boys Green Team Basketball Practice | ½ court share with Girls 3:20-5pm |
| R, 12/5 | Girls Basketball Practice | 3:20-4:15pm |
| | Boys Blue Team Basketball Practice | Study Hall 3:20-4:15pm/Practice 4:15-5:30pm |
| F, 12/6 | Boys Blue & Green Teams Basketball Practice | 3:20-5pm |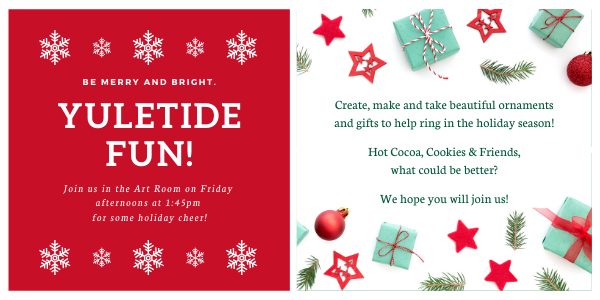 Heron Wear - St. Anne's Sweatshirts are Here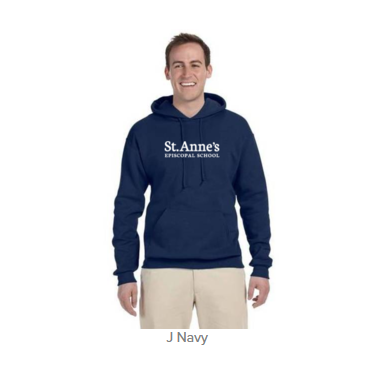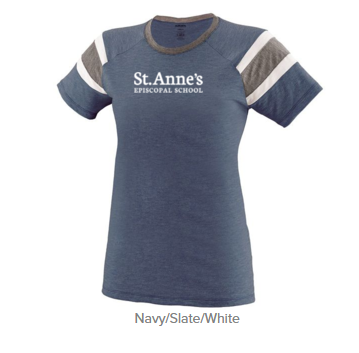 211 Silver Lake Rd. • Middletown, DE 19709 • (302)378-3179