A Thanksgiving Message
Peter Thayer
Last week I heard clinical psychologist, author, and independent school guru Rob Evans speak about the challenges of our society and what schools can do to mitigate them. Much of what he espoused was the need for our communities to reclaim civil discourse. With his typical wit and wisdom, he proclaimed that increasingly in our society, "when we do not agree, we stop talking to each other and start talking about each other." Whether it is about political themes around the midterms, societal themes influencing our news cycle, or even exchanges that can happen in our families and school hallways, his message rings true. The challenge as we re-connect and re-create this Thanksgiving is how do we move forward?
At St. Anne's we are constantly seeking ways to ask students to listen well, to consider the perspective of the other, and to respect the differences that emerge. Whether it is in the ways we resolve conflicts in Kindergarten with an "I to I," debate the most effective President in 7th grade U.S. History, or study world religions in third and eighth grades, we seek to build community by finding common ground and respecting opposing viewpoints.
Dan Heischman the Executive Director of the National Association of Episcopal Schools recently wrote,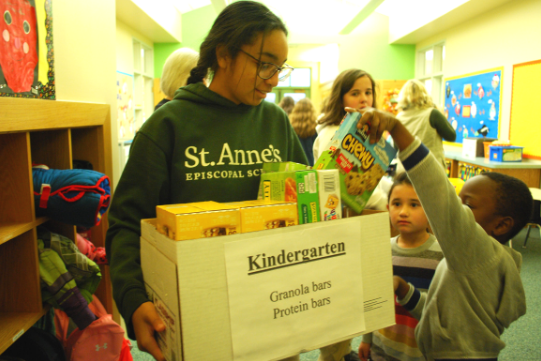 "We in Episcopal schools hold to a belief that human beings are complex creatures, operating at many levels... Our tendency to divide people or groups into good or bad categories, 'us vs. them' frameworks, does the mystery of humanity—a humanity made in the image of God—no justice. By their nature, human beings deserve more. Just as we often do in the classroom, or in our conversations with students, we strive to slow down the rush to judgment, the simplistic categorizing of people or ideas. In the process, we temper many 'made-up minds,' as we invite others to take a second look."
We share a basic human need for community and grace. The work that we do in Episcopal schools in general and at St. Anne's in particular is to recognize that we are part of something much larger than ourselves. As David Brooks writes in his article, The New Cold War,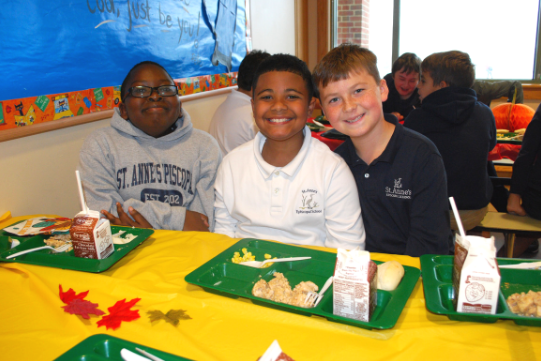 "The good news is that most of us are part of the solution as well. Most of us admire and want to be the teacher who reaches out to the lonely boy (or girl). Most of us mentor and serve people unlike ourselves… It's easier to destroy trust than to build it, so the rippers have an advantage. But there are many more weavers, people who yearn to live in loving relationships and trusting communities."
As we consider how we can all become "weavers" and not "rippers," I invite us to consider this prayer by Robert Louis Stevenson, which he wrote in the 1890's while living on the island of Samoa, expressing his gratitude for all of the blessings before him and his extended family.
Lord, behold our family here assembled.
We thank Thee for this place in which we dwell;
for the love that unites us;
for the peace accorded us this day;
for the hope with which we expect the morrow;
for the health, the work, the food, and the bright skies,
that make our lives delightful;
and for our friends in all parts of the earth.
Let peace abound in our small company.
Purge out of every heart the lurking grudge.
Give us grace and strength to forbear and to persevere.
Give us the grace to accept and to forgive offenders.
Forgetful ourselves, help us to bear cheerfully
the forgetfulness of others.
Give us courage and gaiety and the quiet mind.
Spare to us our friends, soften to us our enemies.
Bless us, if it may be, in all our innocent endeavors.
If it may not, give us the strength to encounter
that which is to come,
that we be brave in peril, constant in tribulation,
temperate in wrath,
and in all changes of fortune, and, down to the gates of death,
loyal and loving one to another.
Robert Louis Stevenson, from Prayers Written at Vailima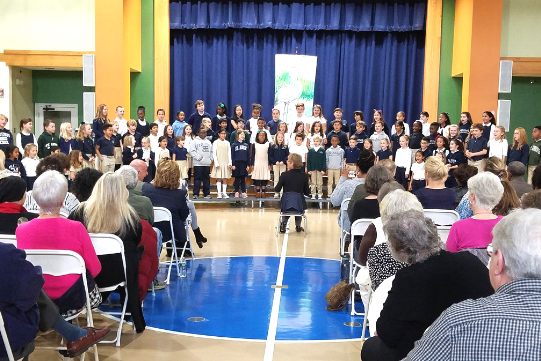 How can we help to improve the discourse in our homes and communities? This holiday season we can challenge ourselves to build up one another, to purge "the lurking grudge," and to see the light of God in each other.
The faculty and staff of St. Anne's wish you a very happy Thanksgiving, full of a sense of gratitude, a spirit of community, and a commitment to being "loyal and loving one to another."